March 25th, 2020: Gackle-Streeter Public School's COVID-19 Response Plan was submitted and approved by DPI and the Governor's Office.
To see our approved Response Plan visit this link: https://5il.co/f3am
March 24th, 2020:
The Gackle-Streeter School Building will remain closed to students the week of March 30th - April 3rd.
This will start the next phase of our Distance Learning Plan.
Students PK-3 will be using a hybrid packet/online model and students 4-12 will be using an online model through their K12 accounts.
Please be in contact with your students' teacher if you are having issues regarding K12 accounts.
Families are asked to drop off their students' completed packets from this week on Friday, March 27th. There will be a drop box for completed packets, as well as a pick-up box with packets for students PK-3 for the following week, in Streeter outside of Dakota Heritage Bank and outside the West Doors of the School in Gackle from 9:00 am to 3:00 pm.
A schedule for online classes for grades 7-12 will be sent out later this week.
March 20th, 2020:
Phase 1 of our Distance Learning Program involves distributing learning packets to each of our students. We have also cleaned out student lockers and desks to deep clean. Parents are asked to stop at the WEST DOOR of the school on Monday, March 23rd between 9:00 AM and 6:00 PM to pick up their family's packets and belongings. Since the building is closed to the public, please ring the bell to let us know you are at the door and someone will meet you there with everything your students will need. If your child is borrowing a device from the school, you will be asked to sign a device release at that time.
March 19th, 2020:
Gackle-Streeter Public School will remain closed the week of March 23rd-27th. We will implement step 1 of our Distance Learning Program at that time. Further information will be given tomorrow regarding the program and materials pick up.
March 16th, 2020:
Please see the letter below for the most up to date information we have at this time.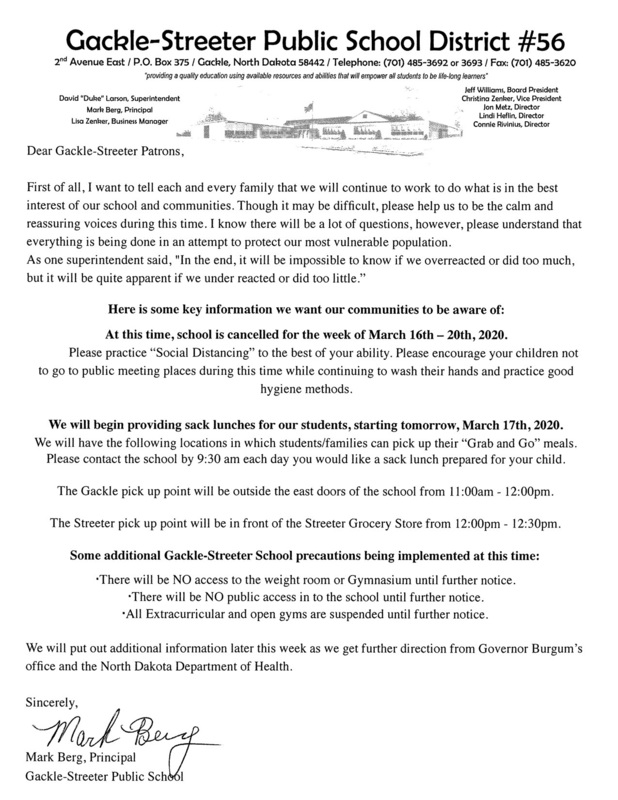 March 15th, 2020:
Due to the Executive Order issued this evening by Governor Burgum, Gackle-Streeter Public School will be closed Monday, March 16th through Friday, March 20th in an effort to slow the spread of Coronavirus. GSPS will be in contact with our patrons with relevant information as it becomes available. Thank you for your support and understanding.


March 11th, 2020:
Students, Staff, Parents, and Guardians,
Cold and influenza (flu) season in the Midwest is in full swing. Influenza is a contagious respiratory illness caused by influenza virus.Symptoms include cough, sore throat, runny/stuffy nose, headache, body or muscle aches, fatigue/tiredness. Not everyone with the flu will have a fever.
The Center for Disease Control and Prevention (CDC) offer the following proper precautions to keep you and your family healthy:
Wash your hands with soap and water for at least 20 seconds before leaving home, on arrival at school/work, after using the restroom, before food preparation, before eating any food (including snacks), and when arriving back at home.
For young children, suggest they hum the "Happy Birthday" song twice from beginning to end twice while washing their hands.
If soap is unavailable, use a hand sanitizer that contains at least 60% alcohol Rub the sanitizer over all surfaces of your hands, which also takes approximately 20 seconds.
Avoid touching your eyes, nose, and mouth.
Cover your cough/sneeze with a tissue, throw the tissue in the garbage, and wash your hands, If a tissue is unavailable cough/sneeze into your flexed elbow.
Clean and disinfect frequently touched objects and surfaces.
Avoid contact with anyone who is sick.
Stay at home if you are sick. Do not send your student to school if they are feeling sick. Influenza vaccinations are still available, which you can obtain through your student's health care provider or at Central Valley Health (Please call for an appointment 701-252-8130).
Gackle-Streeter School is jointly working with Central Valley Health, the NDDoH and other entities to receive and give updates as this evolves.
Gackle-Streeter School is taking a number of precautions including:
Sharing information about proper hand washing with our parents, students, and staff.
Having proper sanitizing products on hand and available to staff
Custodial teams increasing sanitization of high-contact surfaces
Requiring everyone to use hand sanitizer as they enter the Cafeteria
Monitoring absentee patterns and being in contact with guardians regarding their child's health
For more information please visit the websites for the CDC or North Dakota Department of Health. If cases of COVID-19 are identified in our community we will work closely with medical experts to determine the next steps.
Gackle-Streeter School takes the health and safety of our students very seriously. We will continue to monitor this situation and take Guidance from Central Valley Health and the NDDoH. We will continue to share necessary information as appropriate.
Sincerely,
Duke Larson, Superintendent, Gackle-Streeter Public School