COVID-19 PROCEDURES
AS OF 9-14-2021
These procedures were proposed by the administration to the Gackle-Streeter School board at the September regular board meeting on 9-14-2021. The Board reviewed these recommendations and agreed to follow this protocol.
1) Gackle-Streeter School District will follow the guidelines set forth by the NDDoH.
2) The decision tree published by the NDDoH is posted on the school website (below) and will be used as a guideline to determine who needs to quarantine and the length of the quarantine.
3) Gackle-Streeter highly recommends the use of face masks but does not require them at this time.
4) Gackle-Streeter will not be contact tracing; however, Gackle-Streeter will recognize any contact tracing done by the state DoH.
5) Students who test positive for COVID-19 or are identified as a household contact will be expected to quarantine at home and keep up to date on schoolwork by staying in contact with his/her teachers. These students will be coded as COVID PRESENT and not be considered absent. If the student does not meet the requirement of the teacher for homework and contact, the student will be considered absent. The use of Microsoft TEAMS will be encouraged
6) whenever possible but will ultimately be the decision of the teacher.
7) Teachers and office staff who test positive or are a household contact to a positive COVID person will be allowed to teach/work from home and not be required to use sick leave.
Building Safeguards:
1) Daily use of Clorox machine
2) Social distancing whenever possible
3) Recommend use of face masks
4) Increased effort to disinfect high contact surfaces
5) Encourage use of hand sanitizing stations
6) All bathroom fixtures have been converted to touchless
7) Seating assignments of buses
8) Use of hand sanitizer when boarding buses
9) Maintaining groups within classrooms to reduce exposure
10) Limit out-of-state travel for school related functions.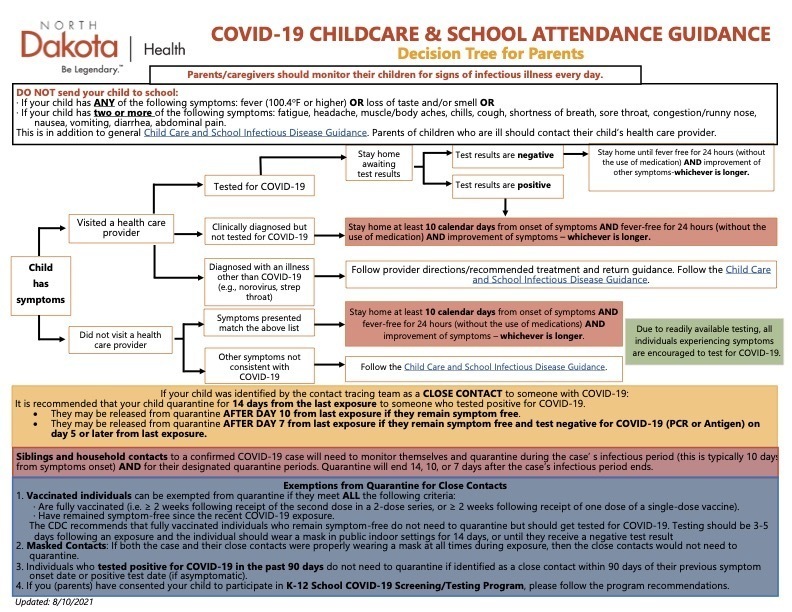 Check out NDDOH's Q & A for K-12 Schools:https://www.health.nd.gov/site...